Nashs Organic Produce
---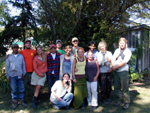 Nash's Organic Produce
Nash Huber & Patty McManus
Farm: 683-4642
Home: 683-7089
1873 E. Anderson Rd., Sequim, WA 98382

Website:
click here
Directions to farm
:
From Sequim travel north on Sequim-Dungeness Avenue through town and continue north until you reach the turnoff to the community of Dungeness. Stay left (the road turns to Anderson Road at this point) and go another 200-300 yards, the farm will be on your right.
--------------------------------------------------
From our Field to Your Fork! We've been growing in the Valley for over 25 years. Watch out kids--its time for veggie relay races, wagon rides, the giant vegetable slingshot, & getting funky with pumpkin decorating!
Join us for workshops: 'Goat's Milk Soap Making', 'The Future of Seeds—the Good, the Bad & the Ugly' & 'Bee Keeping & Honey Production'. Try your hand at making bio-diesel, & at cleaning your own tomato & spinach seeds to plant next year.
Enjoy the music of Josh Rosen, & munch away on farm fresh salads & stir-fry. Be sure to join us Saturday evening for a Community Potluck @ 6pm, & Barn Dance/Fundraiser for B.E.T. @ 7:30pm. (Tickets: $10/Under 16 free & are available at Nash's Farm Store, the PA Farmers' Market, or at the gate.) We'll be boogyin' down with the Jangle Bones from Seattle all night long so don't miss the party...let's celebrate!